France will now face Portugal, who defeated Wales, in the finals at the Stade de France on Sunday.
France v Germany - Player of the game
Atletico Madri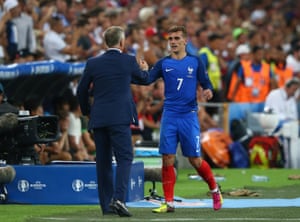 d star Griezmann was always supposed to be the leading striker for France in this tournament – especially after his stellar season at club level. And he didn't disappoint so far with composed displays. But what he displayed against Germany was at a higher level with Griezmann's goal the clear difference between the sides. Undoubtedly, a performance worth the man-of-the-match award.
[yt_carousel source="media: images/sports/Euro2016/French-Crowd-gathered-at-the-Eiffell-tower-to-watch-Germany-v-France.jpg,images/sports/Euro2016/German-team-selection-v-France-semi-final-2016.jpg,images/sports/Euro2016/Germany-v-France-Stade-Velodrome.jpg,images/sports/Euro2016/Schweinsteiger-right-arm-handball-leading-to-the-penalty.jpg,images/sports/Euro2016/Griezmann-first-goal-against-Germany.jpg,images/sports/Euro2016/Griezmann-second-goal-against-Germany.jpg,images/sports/Euro2016/France-celebrates-Victory-against-Germany.jpg,images/sports/Euro2016/Germany-v-France-final-result-0---2.jpg" style="4" items_column0="4" items_column1="4" items_column2="3" items_column3="2" items_column4="1" limit="15" margin="10" image="yes" image_height="320" image_width="360" arrows="no" arrow_position="default" pagination="yes" autoplay="yes" hoverpause="yes" lazyload="no" loop="no" delay="4" speed="0.35" ]
All images courtesy of UEFA.com and the Guardian.com
[yt_tabs type="boxed" style="black" width="" height="" align="left" ] [yt_tabs_item yt_title="France" icon="" ]
[yt_columns grid="yes" ] [yt_columns_item col="4" offset="0" margin="10px" padding="10px" background="" color="#000" border="1px solid #DDDDDD" ]
France team composition:
1 Lloris (G)(C)
3 Evra 43'
7 Griezmann 45'+2 72' 90'+2
8 Payet 71'
9 Giroud 78'
14 Matuidi
15 Pogba
18 Sissoko
9 Sagna
21 Koscielny
22 Umtiti
France Substitutes
5 Kanté 71' 75'
6 Cabaye 90'+2
10 Gignac 78'
[/yt_columns_item] [yt_columns_item col="6" offset="0" margin="10px" padding="10px" background="" color="#000" ]
France statistics
Disciplinary: 2
0
[/yt_columns_item] [/yt_columns]